10 Tips For Escape Room Advertising Online 
Escape Room is an exciting new game that is becoming more popular by days. Selling something people already know about is easy but selling something new is hard and time-consuming. Escape rooms owners work hard to develop exceptional ideas to entertain people and make them have an exciting time.
Escape Room is a fairly new concept. For any new product and service, the advertisement should strongly focus on bringing awareness about the product rather than directly selling it. We have listed down 10 tips on how you can advertise your escape room online to bring more awareness about your escape room and boost your bookings.
1. Fully Functional Escape Room Website
Any online marketing should start with a fully functional website so should an escape room. An escape room should have a modern design with attractive images and engaging content.
A website is like your digital address where you should put out all your escape room themes and services in a beautiful way. You can also tell people about the concept of your escape room and how exciting and safe it is for your audiences. So people can easily check out and decide whether they want an escape room for them or not. Having a functional website is your first step to gaining people's trust in you because it gives you digital validation.
A website should also be CRO optimized for greater results. Check out if your website is CRO optimized with our free audit. And if you are looking for a modern-looking website for your escape room that's CRO optimized, contact us.
2. Google Business For your Escape Rooms
Google is a significant part of local businesses, and getting enlisted into the local business will make a huge difference in your online existence. Google My Business is an absolutely free and easy tool that you can use to get people to know about your escape room a little more.
All you need to do is register your escape room google listing with some information such as business name, location, category, etc. Once Google verifies your existence and your ownership, you are set to appear on Google search top.
With Google, business viewers can also see your address, contact number, opening hours, and photos. Google business also gives viewers to leave reviews. With a free Google My Business listing, you can get good reviews and credibility as well. Besides, google listing is also important to show up on Google Maps.
Highlight your escape room for free and also get your audience's insights with the business dashboard. With the dashboard, you can see what the queries people are using to look for escape rooms in your area are. Moreover, google business listing is mandatory for localized SEO.
So what are you waiting for? Start advertising your escape room using Google My Business for free now.
3. Content Marketing
Content marketing is all about creating engaging and relevant content in the form of blogs, articles, infographics, videos, and others to target your ideal audience and increase your online presence. However, you need to invest time, research, refinement, and a lot of patience with content marketing as it will not bring you overnight success.
But once you hit it right, you will see magic; with the consistent quality content, you can rise from the bottom to become everyone's favorite escape room.
An escape room is a fairly new industry and thus lacks content that other industries and you have the chance to utilize this opportunity to create content to engage with people to tell them how great an escape room experience can be and moreover how they should pick your escape room.
From blogs about what an escape room is to videos on how thrilling your escape room themes are to infographics, anything that is done aesthetically can help you grow your escape room.
So, start using the power of content to advertise and expand your escape room's online popularity.
If you are an escape room owner in USA, Please Join this Facebook group For Daily Marketing Tips.
4. PPC Search Ads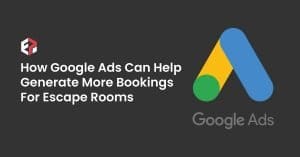 Online advertising is incomplete without PPC search ads. PPC search ads are a form of advertising where your ads show up when people search on a search engine such as Google and Bing.
This is from paid advertising, but the cool part is you only have to pay if someone clicks on your ads. And how much you will pay depends on the bidding. Yes, usually, PPC works with a bidding process. People choose keywords that are relevant to your escape room, and whoever bids the highest gets to show their ads on the paid spots of search results.
Have you ever seen sponsors when you search for something in Google or Bing? You must because usually, Google keeps 3 to 7 spots for the paid advertising, and that is what makes it so important for you to advertise your escape room using search PPC because, let's are honest, no one really cares what's on the second page of Google search results.
However, there are two misconceptions about PPC: one is you can get the tops spots or the same amount of traffic as PPC with SEO, and the second is you only have to pay a high amount to get the top spots.
Both are wrong; you can not get the same amount of traffic with paid SEO, especially with high intent traffic, because, as we said, a good number of spots on the search engine results page are reserved for PPC. Secondly, Google or any search engine's main purpose is to provide the searchers with the best results. So, just bidding high will not get you the top spots on Google Ads or Bing search results. Click here to know more about how to get success with PPC for an escape room.
5. Search Engine Optimization
Search Engine Optimization is quite mandatory and highly effective in advertising your escape room by creating a strong presence. Search Engine Optimization is the process of optimizing your website for search engines like Google, Bing, and so on. 
SEO is non-negotiable for any new business or website. Google puts a lot of emphasis on your website's SEO quality and is an important deciding factor while giving you a spot on search results, even the PPC spots. 
For any local service like an escape room, your website needs to be optimized with local SEO. Local SEO does not end with Google business listing; you also need to do on-page SEO focused on your local area to make your website SEO friendly. Google chooses you over any other escape room while people in your local area search for escape room services.
Another great thing SEO does for you is give you the ability to win the free spots on the search engine result page. So, you can target the high intent keyword with paid PPC and long-term keyword with organic SEO to increase your website's traffic.
Moreover, with great content in blogs, you can engage with your audience more with SEO. The more time your website visitor will spend on your website, the more authority your website gains, and also you gain people's trust in your brand.  
However, SEO does not give you results as fast as PPC. Still, you should never ignore the power of SEO, and SEO with time will bring you more traffic, more credibility and will make your PPC less expensive with great website authority.
6. Social Media Ads
Social Media Marketing is another extremely effective way to engage your ideal audiences to increase your website authority. Using social media paid PPC like Facebook, Instagram, and Linkedin is highly effective in hiring the right audience. If you are wondering why you need to show paid ads on social media to advertise your escape room, you need to know that organic social media is pretty dead now. Almost all posts you see nowadays on social media are sponsored, in other words, paid.
The biggest social platforms can give your escape room the biggest boost you need to get more brand awareness. Besides, people can review social media about their experiences, and we all know word of mouth is the best form of advertisement. Besides, Social media gives you a wide range of filters to narrow down your audience. And is the fastest way to build a relationship with your audience base, the more followers or likes you get on social media reflect the fondness or trust people have for your brand.
So, do not be late to social media and start gathering followers today to get your escape room the recognition it deserves.
Like & Follow Our Facebook page for Escape Room Marketing Tips
Join Facebook Group For Regular Marketing Tips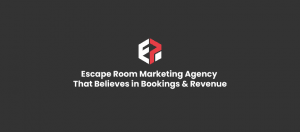 7. Remarketing: 
Have you ever noticed after you visit any product on any website and leave without buying, that product keeps magically appearing on the different websites on the internet? That's remarketing for you.
Remarketing Ads are great to advertise to people who already have an interest in an escape room and visited your website. Another great thing about remarketing is it is comparatively cheaper than search ads. Moreover, you are advertising to a narrower audience, so you have a better chance of getting them to book for your escape room.
Retargeting not only boosts your booking it also increases your brand awareness and helps you get insights into your audience mentality. And you get all the goodness in a lower CPC. 
However, keep in mind remarketing only works while targeting your previous website visitors, so unless you have a sufficient amount of data of website visitors, you should not go for remarketing.
8. Trip advisor:
 TripAdvisor advisor is a great place to advertise your escape room and get good reviews. You can just go on TripAdvisor and create a free attraction listing.
TripAdvisor offers you to write a description about your escape room, so you use those 500 character limits to write about your escape room with catchy words and an attractive image. Also, start collecting positive reviews by signing up for Sign up for Review Express. 
A positive review is kind of the shortest way to bring in more new customers. However, you need to keep in mind that you may get negative reviews at times but have a positive side to them. 
You know the area of improvements to make your escape room experience better for future customers.
And the good news is both Getting listed on TripAdvisor and Review Express are absolutely free, so do not waste time and get on TripAdvisor to promote your escape room and get good reviews
9. Blogger reviews:
Blogger reviews have a high impact on the audience's mindset. So, you should look for blogs and websites that write about escape rooms and give reviews.
So, try to look for online blogs that review similar themes that your escape room offers and contact them to write about your escape rooms. Usually, these reviews are free, but you can offer them a one-time pass for your theme so they can experience it themself and then write about it. You can try out the below-mentioned sites for blogger reviews:
Escape Reviewer

Nowescape 

Escape Room Tips

Esc Room Addict

The Logic Escapes Me

Room Escape Artist
Follow us on Instagram for Daily Escape Room Advertising Tips. 
10. Offer To Promote Your Brand:
Giving offers tends to motivate customers to purchase any service. So, you can try out different offers to promote your escape rooms.
You can offer like 5% off to the first people who book for a certain theme or offer 5% off for a second visit one makes to your escape room and such.
You can also give branded t-shirts or other items to your website visitors, so they have something to remember your escape rooms. A simple t-shirt with your brand's logo or your theme will promote your brand every time your customers wear it and also can give a positive word of mouth once someone asks them about the t-shirts.
And if giving a t-shirt seems expensive to you then you can give it to people on a special occasion like if someone visits your escape room on their birthday. This will not only make a great memory for their birthday, but they will also remember your escape room positively and are highly likely to come back and recommend people about your escape room by sharing the wonderful birthday surprise.
Here you can read about Top 7 Escape Room Marketing Ideas During Holiday Seasons To Maximize Bookings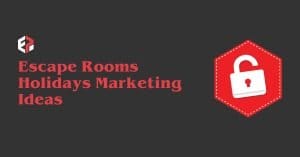 Conclusion
An escape room is an on the edge game that makes it interesting and perfect at the same time to leverage digital marketing platforms. Because being a unique and new industry, you need all the attention of the people, and nowadays, people spend most of their time and attention on digital platforms.
We have tried to list down some of the ways you can advertise your escape room online; however, if you are looking for a full marketing plan, contact us for a free audit and marketing plan.
For more marketing ideas & tips follow us on Twitter, Linkedin & Pinterest.