7 Escape Room Marketing Ideas to Attract More Players | Escape Room PPC
 There was a time when all an Escape Room needed to attract players was a nice location and even better games. A lack of an online presence in today's digital world may be a big disadvantage for any company wanting to expand. Are you looking for some online marketing ideas for your Escape Room business? We've got you covered.
We've outlined the essential components of digital marketing for escape rooms. Gain more players and set yourself out from the competition. Learn how to add value to your escape room's online presence and get the results you want.
Attracting new players online will be a snap with the help of this approach. Allow a notion to motivate you to expand your escape rooms. 
1. Optimize Your Escape Room Website
Having a website isn't enough. To persuade more people to attend your escape room, you should make the most of its advantages. There should be no grammatical faults on a professional website. Poor spelling and grammar have the potential to turn off potential players.
Keep your escape room's services, contact information, and hours of operation visible at all times. To prevent confounding potential players, keep this information updated as needed.
Your objective as an Escape Room business owner is all about giving a great experience at an affordable price. With consistent graphics, your website design should complement your games. The layout should be simple to navigate and not too cluttered.
Remember that your website should be mobile-friendly as well. Mobile searches account for almost half of all organic searches in the United States, according to Statista.com. As a result, your web pages should load quickly on a smartphone.
Personalizing the about me page is another way to help your website stand out in the online world. As an Escape Room business, for example, you should include all of your games and safety certificates. It's also a good thing to highlight your escape games features & uniqueness.
Include images of events with current players to personalize your website. Consider creating a team page that lists all of your employees. This internal marketing strategy will make your employees feel valued and proud to be a part of the group.
Don't forget to include a call-to-action (CTA) button on your website. Escape Room Enthusiasts who are new to the concept of escape rooms should be able to arrange online bookings using the website. Booking cancellations are reduced and the scheduling procedure is simplified with an online booking feature.
2. Improve Your Escape Room Search Engine Ranking with a Blog
 One of the most valuable tools in digital marketing is search engine optimization or SEO. More visitors will find your website if it ranks highly in search results. Only the first two pages of Google Search results are visited by potential players. The primary purpose of SEO is to get your website to appear on Google's coveted first page.
For SEO, keyword research is critical. Keyword research can be aided by tools like MOZ, SEMrush, and Ahrefs. Including these keywords in your web pages is a big step toward enhancing your Google rankings.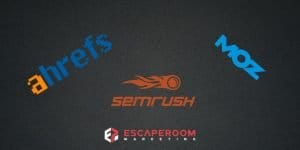 Writing and updating blogs is a fun approach to boost your SEO. Blog content is a fun, engaging method to provide value to your website for your players while also optimizing it for search engines. Include important keywords from your research in your blogs. Keep in mind that while instructive, your blog writing should be fun and original.
The topics of blogs should be intriguing and relevant to the common inquiries that potential players have. It is completely free to start a blog on your Escape Room website. All you have to do is share your knowledge while utilizing the appropriate keywords.
3. Try Pay-Per-Click (PPC) Advertising For Escape Rooms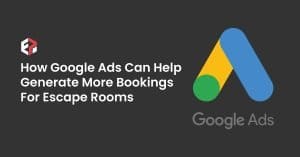 Pay-per-click (PPC) adverts can help you supplement your SEO efforts. If you're a new Escape Room in town, this is a great method to get your name out there and attract new players. This can assist you to obtain even more website visitors if you're a seasoned player in the game.
Escape Room Companies can use PPC advertising to bring their escape games to the top of search engine rankings. PPC provides instant results. PPC advertising, like SEO, relies on the smart use of keywords. Keywords connected to your practice, such as "Escape Rooms in Los Angeles" or "Escape Rooms Near Me" in your case.
PPC advertising has the advantage of yielding immediate results. Furthermore, you just pay for the number of clicks or site traffic your campaign generates. As a result, you will get exactly what you pay for.
This pay-to-play method is an efficient way to raise your company's awareness. You pay for that particular visit after a potential player sees the ad and clicks on it. This will increase traffic to your website, which will help you gain more bookings online.
You may use Google Ads ( Previously AdWords) to come up with proper & highly targeted ads when people are searching in Google for Escape Rooms. It's a free tool that can help you enhance your PPC advertising approach. A fair amount of monthly budget is required to run ads in Google Ads.  
4. Showcase Your Potential Reviews on Your Website
A Google search is likely to be the most typical approach for new players to learn about your escape room. With a Google My Business presence, you may save players' time by making it simple for them to find your Escape Rooms. Maintain accurate, up-to-date information, and post images of your escape room location. 
Players will most likely read your reviews after seeing your Google My Business listing. Congratulations on the positive feedback you've received for your Escape Room business! Now it's time to display your favourable ratings on your website. Your favourable ratings can be shared on social media or in email campaigns. Long-term players should be encouraged to post good ratings. You might send them thank-you notes or other rewards.
You must respond to unfavourable reviews quickly so that the conversation can shift to a more positive tone. Players may believe you don't respect their input if you leave it unanswered. Your next player might be the one who notices that your company values player feedback.
Word-of-mouth advertising has long been a powerful marketing tactic. However, in this very digital age, online reviews have become the digital means to convey favourable feedback about your business.
5. Invest in Your Social Media Strategy
We'll break down social media, which may appear to be a broad term. The sheer number of social media networks available might be intimidating. Don't worry, you don't have to use every platform to improve your internet visibility, although we do recommend a few.
Encourage your players to like or follow your pages on Facebook, as it is a big factor. The Facebook algorithm will suggest that your existing players' friends like the same pages. You'll want to keep your Facebook company listing up to date. Office hours, address locations, phone numbers, and website URLs are all included.
Twitter is another useful social media network where you may create a business page. In no time, you'll be tweeting your favourite Escape Room articles or responding to mentions. Twitter can be used to solicit comments from players and promote original blog material. LinkedIn, Instagram, and YouTube are three other social networking platforms worth investigating.
Using social media to create captivating content can help you raise awareness about your practice. You may create instructional blogs that your players and their friends will like.
What makes social media so appealing is that it can be used to both inform and entertain. Write content about the exciting games in escape rooms trends that people would want to share with their friends. Do you want to run Facebook ads for your escape rooms? Learn more here! 
6. Use Email Marketing to Keep in Touch with Players
Did you know that checking your email is still the most common online activity? Since 1971, when first email was sent, individuals have been using this instrument. That is why you should use email marketing to its full potential. Encourage current players to return to your escape room by sending them emails.
Email marketing is simple and inexpensive. You can improve player retention by sending emails frequently. Sending follow-ups and email reminders to your players is an easy method to stay in touch. If you have escape games or gift cards, a well-crafted email campaign can help you get the word out.
Email advertising can help your Escape Room Business promote anything it requires. Create a campaign promoting holiday gift cards, the most up-to-date games, and annual game fests, for example. Send an email to your players informing them of their escape room options.
We also recommend that you create newsletters to promote your blog entries. Newsletters can include a wide range of escape room topics that you want your website visitors to know about. They can also increase traffic to your website, making it easier for players to get a booking. Maintain and track the performance of your email lists.
7. Start a Referral Program
With a referral program, you can provide incentives to your players. If you asked every one of your new players how they heard about your Escape Room Business, what would they say? A significant number will almost certainly claim that they were referred to you by a family member or acquaintance. While obtaining this kind of word-of-mouth endorsement is fantastic, picture getting it regularly. This business goal can be achieved by implementing a referral scheme for your current players.
For example, you could give a new player a $10 discount on their bill and a repeat client a $5 online store gift card. These types of programs are an excellent method to attract new visitors and develop new leads.
During a visit, inform players about the program and send a reminder via email or direct mail. Players can be rewarded with e-voucher coupons or gift cards, for example. Take the old-fashioned word-of-mouth strategy and improve it with digital marketing.
Apply these Escape Room Digital Marketing Tips
It can be difficult to implement these marketing methods to gain new players when you and your business have so much on your plates. That's why you should hire a digital marketing partner who can help you develop and implement a timely Escape Room marketing strategy.
For handling all of your digital marketing needs in one place with Escape Room PPC, you can save time and money. Schedule a meeting for more information on digital marketing packages that include content development.